Born in 1966 in Wrocław, she lives and works in Warsaw. In 1994 Baumgart graduated from the State Higher School of Visual Arts in Gdańsk with a diploma from the sculpture studio of Professor Franciszek Duszeńko. She is a post-conceptual artist, film director and set designer. Her work belongs to the fields of critical and feminist art; Baumgart analyses phenomena related to cultural patterns of behaviour and social stereotypes. Since 1997, she has been active as a video artist; her films often draw on the documentary or reportage form. The film Fresh Cherries from 2010 was screened at major video art festivals worldwide and was honoured with the audience award for the best video film at the Loop Festival in Barcelona.  She is the holder of numerous scholarships of the Polish Ministry of Culture and National Heritage and the Foundation for Culture. Her works have been presented in Poland and abroad, among others in Brooklyn Museum, New York; n.b.k. and Kunstwerke, Berlin; Museum on the Seam, Jerusalem; Casino Luxembourg, Luxembourg; Zachęta National Gallery of Art and Centre for Contemporary Art Ujazdowski Castle, Warsaw. Her works can be found in high-profile art collections: Hauser & Wirth, FRAC Poitou-Charentes, Zachęta National Gallery of Art, "Signs of Time" collections in Szczecin, Lublin and Olsztyn, European Parliament Collection, Silesian Museum for Fine Arts in Wrocław, or the National Museum in Warsaw.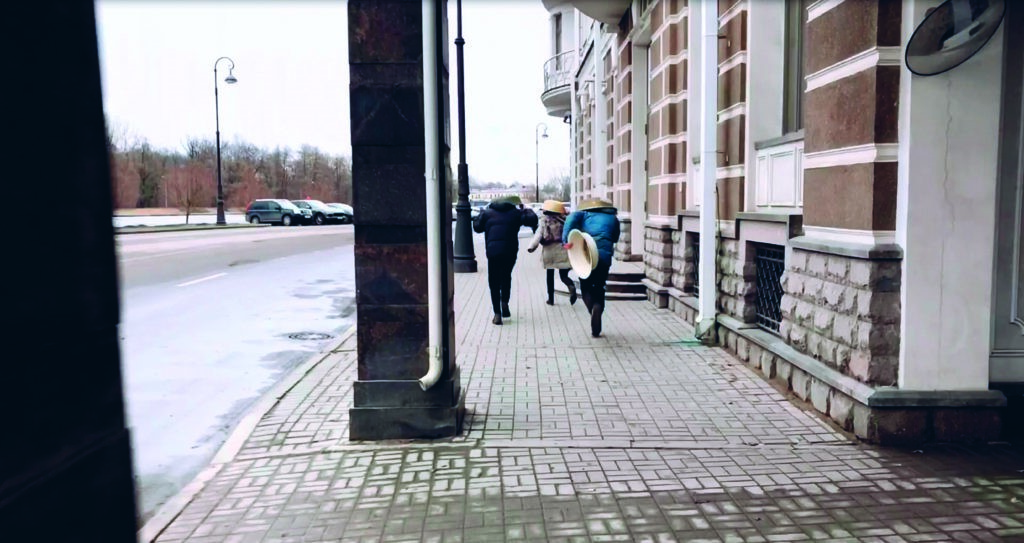 Anna Baumgart, Primakov is Leaving the Closet, Part 1. Petersburg [GA], video, 2017
Working on her previous film Conquerors of the Sun, Anna Baumgart got interested in the life of Casimir Malevich. She found out about a script he had written for a planned experimental film to be realised with the German Dadaist Hans Richter. It had never happened, as the Revolution in Russia took a wrong direction and Malevich got arrested and sent to prison, and was never to leave Russia again. Baumgart intends to carry out this failed project in several countries (Germany, Russia, Poland) asking participants of different backgrounds to interpret the Malevich script in contemporary conditions. The avant-garde, image-driven script focuses on supremacist geometric figures which in the first part of Baumgart's cycle is reconstructed by a group of Russian artists-activists Bezmestye (that could be translated as "Placeless") in Petersburg on the centenary of the 1917 Revolution. Artists decided to refer not only to Malevich, but also to the work of Moscow Conceptualists and the group Collective Actions (Kolektivnoe Dejstvo), active in the 1970s and their passive resistance towards the authorities. Baumgart's work title also references Russian conceptual artist Ilya Kabakov and his quite abstract and absurd Primakov sitting in a closet, about a boy who in order to avoid contact with the outside reality, choses to sit in a closet where he contemplates the Black Square by Malevich. The seemingly absurd performance by the young artists in the city space where they run with this most banal Soviet era objects, metal bowls on their heads, is a reference to political powerlessness, lack of agency, disappearance but also the avant-garde tradition and the symbolism of the Black Square. It is a commentary on the forms of artistic freedom in the oppressive world as a slightly nihilist striving towards nothingness. The film is a record of the public performance and a discussion about the political meaning of the work.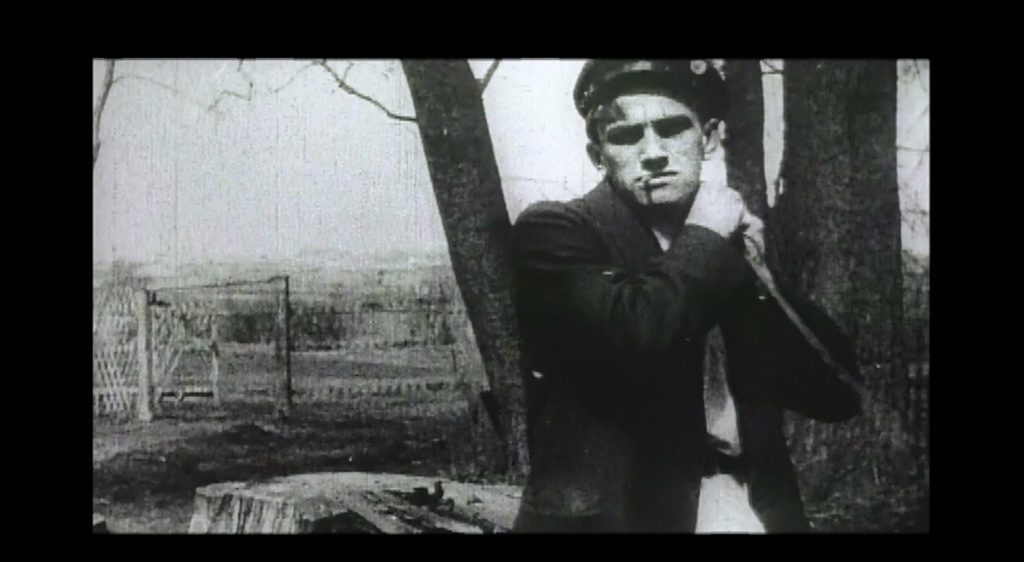 Anna Baumgart, Conquerors of the Sun [GL], video, 2012
Anna Baumgart is one of the very few Polish artists who boldly deals with the legacy of the Soviet avant-garde, as well as with difficult moments of the 20th century history and their mutual relationships. She uses conceptual means and forms associated with avant-garde and modernity, such as found footage and photomontage. After her work True? where she explores themes of gender and politics using the footage of famous Soviet melodrama Cranes are Flying by Mikhail Kalotozov or her cycle Revolution is not a dinner, where she considers the appropriation of revolutionary slogans by pop culture, her film Conquerors of the Sun has been her most complex and multi-layered statement on that subject to date. It is a so-called mockument of fictitious documentary, realised in collaboration with a Soviet avant-garde specialist Andrzej Turowski, whose essay Locomotive of History is an integral part of the work. Baumgart describes there a fictitious contemporary investigation over a lost art collection, which was to be allegedly transported by Casimir Malevich from Moscow to Berlin in one of so-called "agit-trains" in 1920 to support German Communist Party and to inspire a revolutionary spirit in German artists and society. In the end the train was to never reach its destination but to stop in Koluszki near Łódź, Poland and the collection, allegedly taken over by Władysław Strzemiński, was to be irretrievably lost. Baumgart and Turowski based their story, titled after the avant-garde opera Victory Over the Sun by Alexei Kruchenykh, whose original stage design was executed by Malevich himself, on a sufficient number of facts (agit-trains, which were created by avant-garde Soviet artists, Strzemiński's acquaintance with Malevich and his western contacts, Lodz's Museum of Art collection assembled by Strzemiński and Katarzyna Kobro, stories of Polish avant-garde artists: Mieczysław Szczuka and Teresa Żarnowerówna), so that it gained enough credibility to let the viewer's imagination "take off" and create a potential history of (Polish) avant-garde and art and of artistic and social revolution and utopia. Even if they were never to be fully realised, they still shape our political imagination today.