Born in 1970 in Olsztyn, Poland, she lives in Kozielec on the Vistula. She studied at the Faculty of Fine Arts of the Nicolaus Copernicus University in Toruń. Since 1996, she has been employed at the Drawing Department of the University in Toruń. Jabłońska's work is often interpreted in feminist and post-feminist terms, although the artist shuns such unambiguous categorisation. She mainly works with installations, photography, performance and durational-spatial projects. Using and transforming the stereotypes and clichés of femininity present in popular culture, Jabłońska plays an ironic game with social roles attributed to women and, at the same time, with the mechanisms of art institutions. She also reflects on artists' social engagement and investigates semantic relations; her work disturbs the viewer with the inadequacy of the form and content of linguistic notation. Her oeuvre also embraces a variety of long-term projects based on collaboration with cultural institutions and audiences as well as initiatives that activate various milieus. Her billboard Home Games appeared in the public space of more than a dozen Polish cities as part of a campaign of the AMS Outdoor Gallery. Jabłońska's work has been presented at many individual shows at Zachęta National Gallery of Art, Warsaw; Kronika Gallery, Bytom; BWA, Zielona Góra; Arsenał Gallery, Białystok, amongst other venues. She also participated in numerous group exhibitions in Poland (e.g. Muzeum Sztuki, Łódź; Centre for Contemporary Art Łaźnia, Gdańsk; Centre for Contemporary Art Ujazdowski Castle, Warsaw; "Signs of Time" Centre for Contemporary Art, Toruń; Wyspa Institute of Art, Gdańsk; Manhattan Gallery, Łódź), as well as abroad (among others at the Brooklyn Museum, Sculpture Center and The De Lamar Mansion Centennial Salon of Arts & Ideas, New York; Forum Kunst und Architektur, Essen; or n.b.k., Berlin).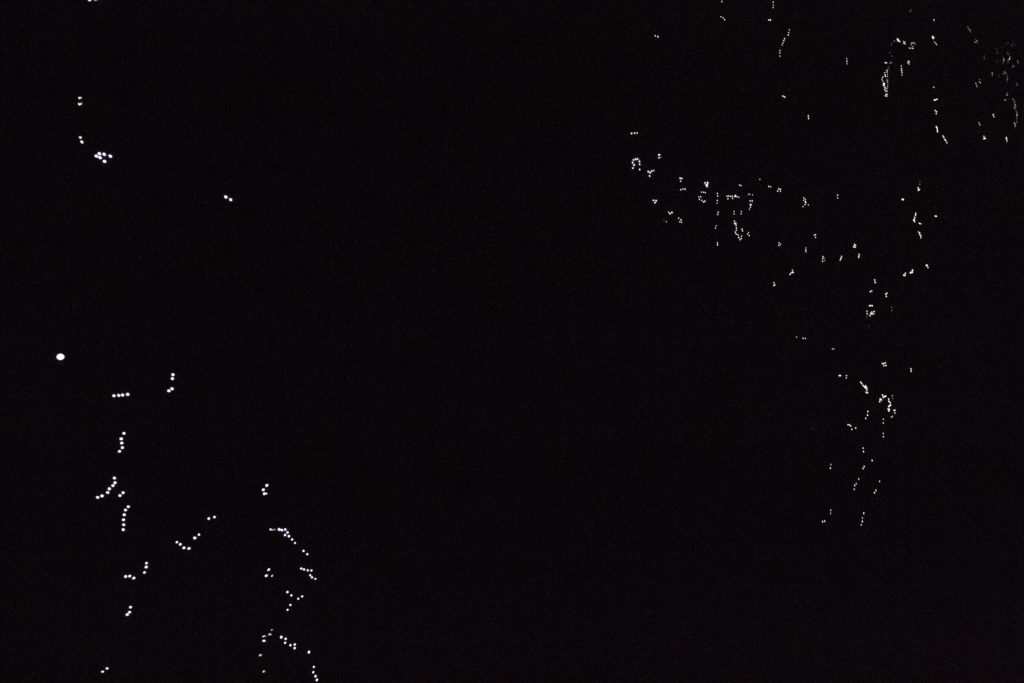 Elżbieta Jabłońska, Points [GA], installation, 2017, photo by Kacper Gorysz
Maps are a very endearing object of artistic exploration, both on the micro and macro level, showing certain, often surprising, connections, not only from a geographical, but also other points of view, displaying relations between nations and cultures. Jabłońska's work refers to the way a map can reveal deeper meanings about land and politics.
İn her work Points she marked points on a world map that correspond to existing border crossings, which she then transposed to the surface of a wall in the form of illuminated drilled holes. This simple gesture creates a wholly new abstract constellation of border points, where, once the borders' lines are eliminated, we can see a kind of drawing made with light, or writing with light. An aggregation of light points is like a star constellation, but due to the sharp, aggressive character of the drilling a less serene, more brutal aspect is revealed, referring to shooting, war and violence. İn this way the artist makes reference also to militarism and violence inscribed in every process of establishing a border which has to be then guarded and protected. The work will have two versions: in Bialystok there will be an installation, and in Lublin the printed description of cities mentioned in the project.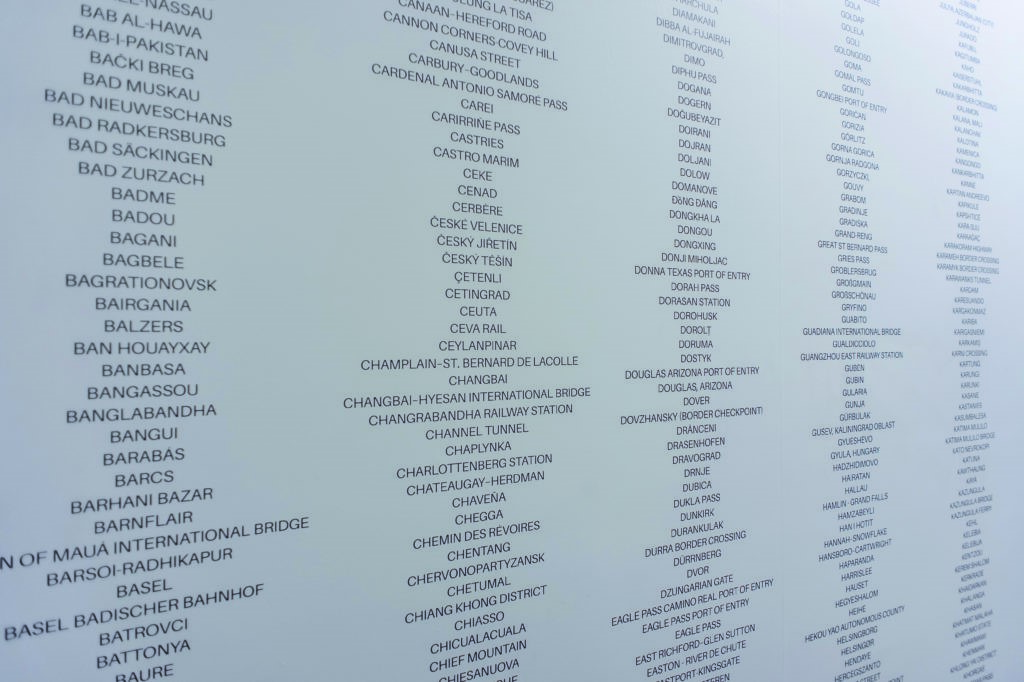 Elżbieta Jabłońska, Points [GL], prints, 2017, photo by Wojciech Pacewicz