Born in 1972 in Pécs, Hungary, he lives and works in Paris, France. Gróf graduated from the Hungarian Academy of the Arts in Budapest. Since 2012 he has been a lecturer at the École Nationale Supérieure d'Art (ENSA) in Bourges, France. Emerging from the intersection of graphic design and spatial experiences, his work concentrates on the traces of ideologies. He is a founding member of the Parisian cooperative Société Réaliste, established in 2004. The collective has presented its projects at individual exhibitions at acb Gallery, Budapest; tranzit.ro, Cluj; P!, New York; Galerie Jérôme Poggi, Paris; MNAC, Bucharest; Ludwig Museum, Budapest; Jeu de Paume, Paris; as well as at numerous group exhibitions and biennials in Shanghai, 2012; Lyon, 2009; and Istanbul, 2009.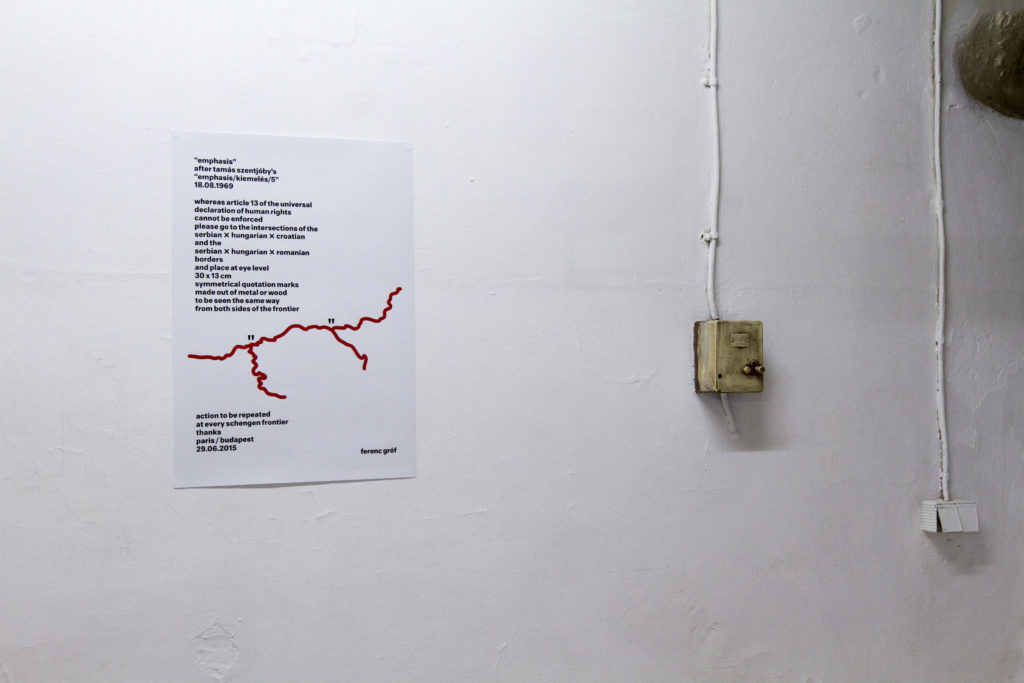 Ferenc Gróf, Emphasis [GA], prints, 2017, bearing resemblance to the work of Tamás Szentjóby, emphasis, photo by Kacper Gorysz
The work of Ferenc Gróf, constituting a half of an art collective, Societe Realiste, builds a bridge between the already classic conceptual work of Hungarian conceptualism, emphasis/5 by Tamás Szentjóby from 1969, and contemporary political art. Both cases concern countries' political borders but also subtle differences and ironic similarities between a political situation in an especially tense moment in the history of the Eastern bloc (1968, Soviet invasion in Chechoslovakia) and in the present one. Szentjóby had been refused a passport and having left Hungary in 1974 he had not come back until the political transition. In his work Szentjóby called to put inverted commas at the intersections of the Yugoslavian-Austrian-Hungarian border and the Czechoslovakian-Austrian-Hungarian border. Gróf, on the other hand, has decided to react to a political crisis driven by racism and reluctance to let refuges enter the European Union,  which has led to the erection of a fence at the Austrian-Serbian border and in which the present Hungarian government has played an infamous role. Does Gróf compare dissidents from the times of the cold war to the present refugees from the Middle East? Truth be told, today's refugees are exposed to much more danger than just a confiscation of a passport and such truth must be finally faced. However, democratic Eastern Europe has not made good use of its democratic potential after the fall of Communism, to say the least.