Performance group founded in 2001 by Larysa Venediktova. The group members are: Larysa Venediktova, Olga Komisar and Oleksandr Lebediev. In 2007–2010 and since 2013 TanzLaboratorium has collaborated with Les' Kurbas National Theatre Arts Centre, Kyiv. The group deals with time in given, randomly found or consciously chosen spaces. The group's artistic strategy manifests itself in permeating the gaps between contemporary art forms and destroying their linguistic conventions.TanzLaboratorium's artistic practice consists primarily in working with the body as medium with its own body-consciousness and body-imagination. The body is not used as an instrument but acts as the author of images and critical agent for thinking. Physical practice is regarded as a method of critical analysis, and dance – by investigating its perception – becomes a way of thinking. The group has participated in festivals: Tanzzeitfestival, Winterthur, 2014; Krakow Theatrical Reminiscences, Krakow, 2014; New Baltic Dance, Vilnius, 2014; Contemporary Art Days, Bialystok, 2010; INFANT, Novi Sad, 2009, amongst other events. It has presented work at numerous exhibitions in, among others, the Vozdvizhenka32 Arts House, Kyiv; Teatr Powszechny, Warsaw; Sevastopol Art Museum; Arsenal Gallery, Bialystok; MMoMA, Moscow, as well as at the Kyiv Biennial in 2015.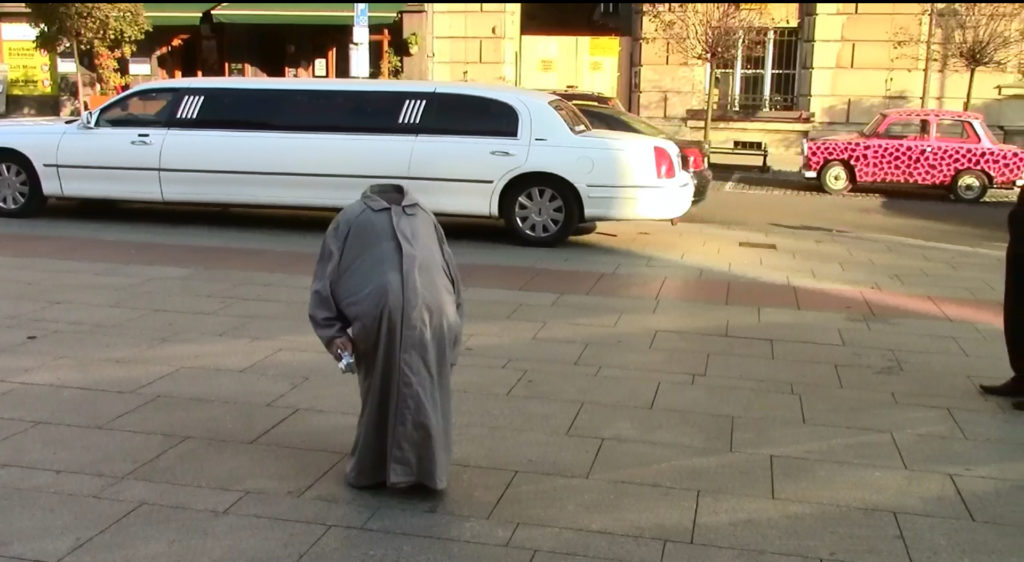 TanzLaboratorium, Headless [GL, GA], video, 2010

TanzLaboratorium was founded in Kiev in 1999 in order to build  a common platform for arts: dance, sound and performance. Their main object of interest is human body and presenting complex situations via bodily relations. Headless is an absurdly funny film record of the public performances made by TL urban participants who decided to confront themselves with the contemporary Polish and Ukrainian historical politics which is often increasingly mutually contradictory. On Cracow main tourist street, Grodzka, next to Katyń Cross (commemorating 40,000 Polish soldiers killed by the Soviets in 1940) a long white limo arrives, from which two headless dwarves step out, accompanied by security guards – a scene like from a horror movie or a political thriller with a twist for macabre. They lay down red carnations as a tribute just like during the communist era. The situation is repeated several times next to places such as the Monument to the Military Actions of the Proletariat from 1986 or World War Two memorials. They act in an identical way in Ukraine, where they pay homage to war memorials of Soviet Soldiers or dead Poles. Passers-by' reaction varies, from passive observation to active willingness to disrupt the ceremony, with comments such as "this is our city". The view of the slightly creepy pair in trench coats is definitely confounding and makes us think of two guests from the outer space or dignitaries of the current or old regime, who often do not differ that much from each other. The uncanny atmosphere of each little ceremony evokes feelings of what can and what cannot be done in public space and how difficult historical events from the past are commemorated these days.