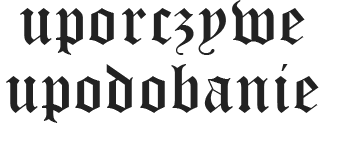 Maciej Jarzewicz, The Modern Decline of Beauty

Fondness for ugliness, dreadfulness, themes that are marginal and opposed to classic beauty is at least as old as beauty itself and fondness for it. Yet, much has changed since the times of Phidias and Aristotle, as the formula of mainstream art has become extremely distant from classic beauty, whereas ugliness and monstrosity turned out ...

Ryszard Kasperowicz, UGLINESS – concept outline

"Ugliness," akin to "beauty" and "the sublime," belongs to the most troublesome of aesthetic categories. The problem with "ugliness" consists in the fact that an attempt to define it as a simple opposition of "beauty" is doomed to fail, although it seems that the ugly must be a negation of the beautiful, and therefore betray ...