Born in 1959 in Lerik, Azerbaijan, he lives and works in Paris. Badalov is a visual artist and a poet who expresses his ideas through visual poetry, art objects, installations and live performances. He also experiments with words and writes obscure poetry, mixing languages and images of different cultures. Language is the essential material of his work. He is interested in its limits and its ability to isolate the individual from the rest of the society. Badalov uses language to contemplate the current geo-political situation, relating it to his personal experiences of migration through countries of the former Soviet Union, the United States, Europe, Asia and the Middle East. His drawings, collages and ornamental poetry manifest the cultural, historical and ideological overlapping of our globalized world. His visual poetry often takes the form of a diary, created daily through a combination of his own linguistic research and manipulated pictorial material, mainly with political content. Badalov's work has been shown at solo exhibitions at Tensta Konsthall, Stockholm; MUSAC, León, Spain; Palais de Tokyo, Paris; Kunstraum München, Munich, as well as group exhibitions at MOCAK, Krakow; Kunstmuseum Bern; New Museum, New York; Museum of Contemporary Art, Antwerp; MANIFESTA 8; 11th Gwangju Biennale; 6th Moscow Biennale; 15th Jakarta Biennale, 1st Thessaloniki Biennale, amongst other venues and events.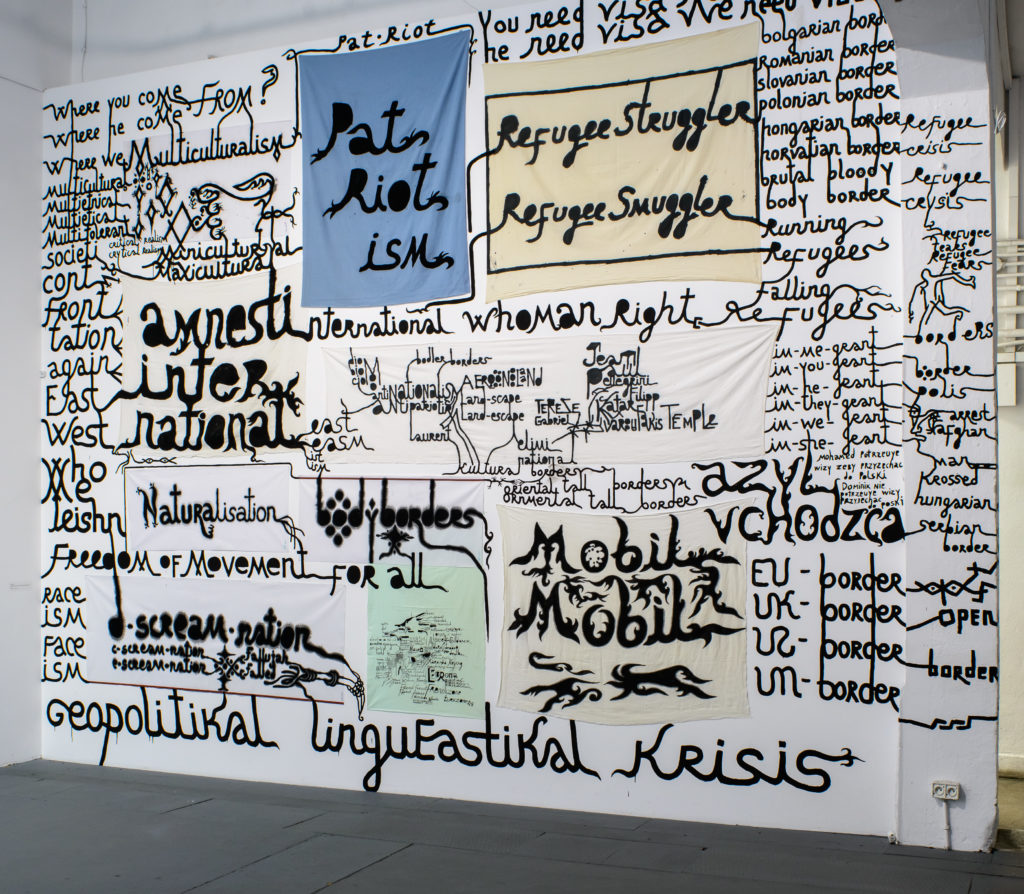 Geopolitical LinguEastical Crisis [GL], installation, 2017, photo by Wojciech Pacewicz
Badalov is an Azerbaijani artist and poet, who in his practice explores the language itself, examining its limits. He is interested both in language's playfulness and the way it allows endless word plays, but also in its more oppressive, darker sides: for example, how not knowing languages may lead to people's isolation and the creation of borders. The limits of my language are the limits of my world, said Ludwig Wittgenstein in Tractatus Logico-Philosohicus. Badalov in a way agrees with that, but he wants to surpass it, focusing on a political dimension of linguistic alienation. Visually his works are often very attractive – the artist creates installations, objects, paintings, often enriching them with happenings. He uses the form of a banner where he writes his slogans, often calligraphically attractive in themselves, showing gradual obfuscation of meaning of the highly politicized words, such as  "a refugee" or  "a border", adding some distorted media images to it. In Lublin the artist created a work where such key words as border, nation, identity create a colorful collage, dispersing freely across the banner as if it was an improvised "demo without participants" living an inner life on its own.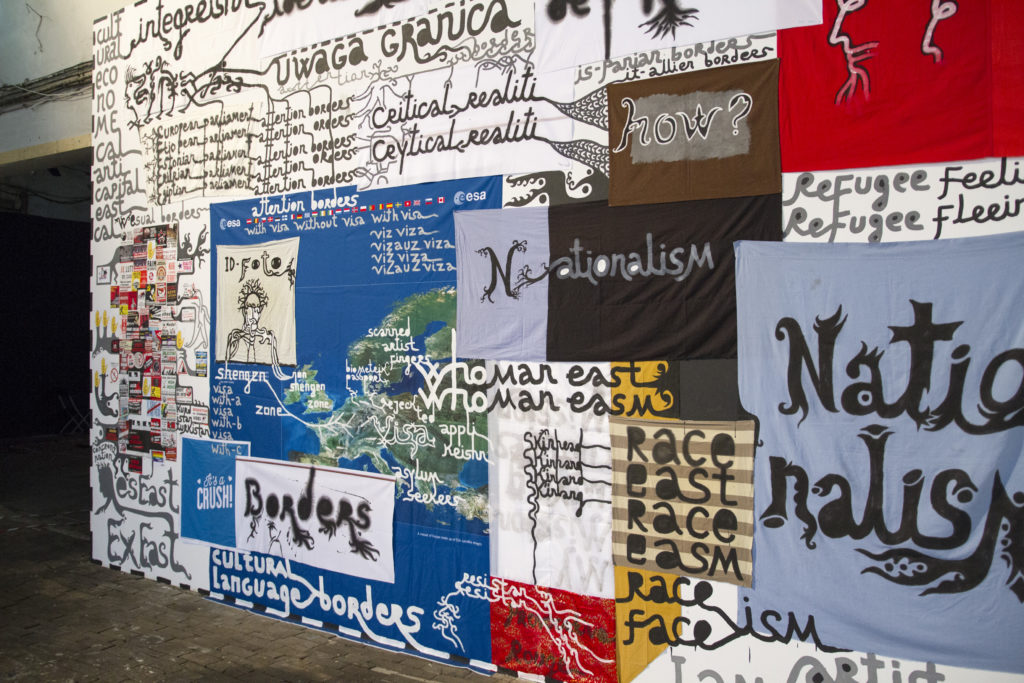 Geopolitical LinguEastical Crisis [GA], installation, 2017, photo by Kacper Gorysz