Born in 1984 in Iskenderun, Turkey, she lives and works in London and Istanbul. Bucak earned her BA from the Albertina Academy of Fine Art, Turin, and her MA in Photography from the Royal College of Art, London. Since 2009, she has displayed her works at individual exhibitions at UCA Rochester, UK; Galleria Alberto Peola, Turin; Castello di Rivoli, Turin; Arter-Space for Art, Istanbul; Artpace, San Antonio; Harpe 45, Lausanne, amongst other venues. Her projects have also been featured at a wide range of group shows at Göteborg Biennial 2017; Pinacoteca Albertina, Turin; Jewish Museum, New York; SALT Galata, Istanbul; SALT Ulus, Ankara; ICA, London; or Manifesta 9, Ghent.
Fatma Bucak, The Empire of Imagination [GA], video, 2016
Almost all the works of Fatma Bucak, born on the Syria-Turkey border but educated in London, concentrate around poetics, pragmatic conditions and human consequences of borders, border regions and walls, as well as censorship, state violence and mass immigration.. The artist is inspired by natural folklore of her family region, arranging it in aestheticized and symbolic situations. In The Empire of Imagination she talks about the so-called Moroccan Wall which runs through Western Sahara and is approximately 2700 km long, dividing the territories occupied by Morocco and the rest of Sahara. The wall is surrounded by complex defense network and thousands of mines. People die and their families become separated and doomed to live in refugee camps on the vast desert under the supervision of armed soldiers. The film shows a symbolic destruction of the wall by two activists of Sahara liberation staying in a refugee camp. Covering the occupied land with a cloth monetarily invalidates the border whose consequences, however, are still painfully real in the occupied territories.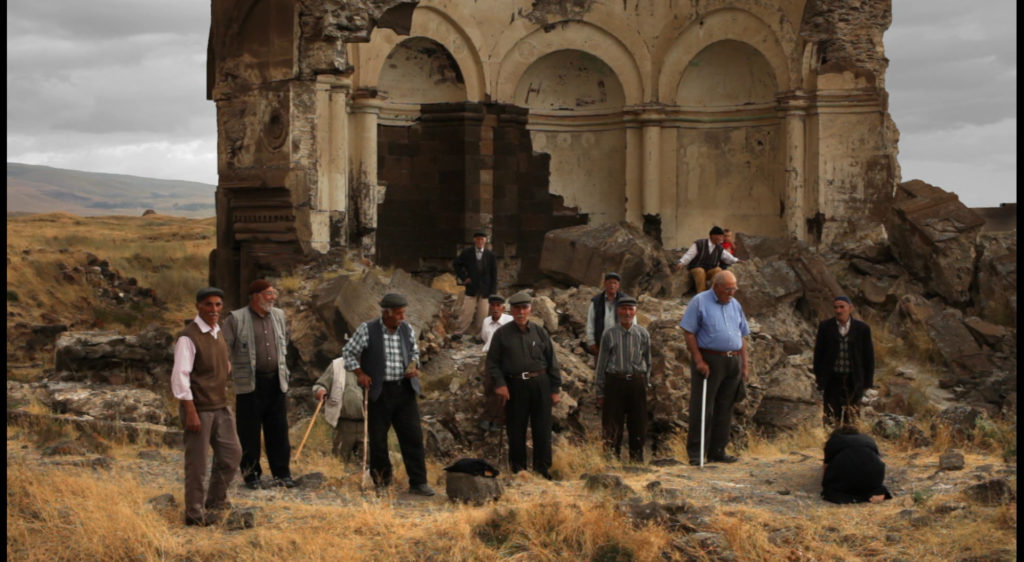 Fatma Bucak, Blessed are you who come. Conversation on the Turkish Armenian border [GL], video, 2012
The work Blessed are you who come. Conversation on the Turkish Armenian border poses a questions about a cultural and gender belonging. The artist travels to a village which used to be inhabited by Christian Armenians, however, once the Turkish and Muslim occupation started, the demography, culture and religion of this place has been transformed completely. A mysterious, black-clad woman makes gestures difficult to comprehend, in the presence of a group of elderly Turkish men, who ironically comment and question her behavior. Bucak's work refers to patriarchy and the law of the strongest which has always annihilated some cultures for the sake of others.