Born in 1975 in Lviv, Ukraine, where he lives and works. He graduated from the Restoration Department of the Lviv National Academy of Arts where he also received a PhD degree in art history.Tymkiv is a visual artist, poet and researcher. He deals with drawing, painting and cutouts, being also very active in the mail art environment. He maintains a high online presence as a blogger and author of websites devoted to his art. Tymkiv runs his own private gallery, Tymutopiyapres, in the garage of his house on the outskirts of Lviv, where he regularly exhibits mail art, graphic works and zines.He has exhibited his work within individual shows at the galleries "Dzyga" and "Slyvka" in Lviv and the group show Imagination. Reality at the National Art Museum of Ukraine, Kyiv in 2015, amongst other exhibitions. Tymkiv's works can be found in private and institutional collections in the USA, France, Italy, Germany and Japan.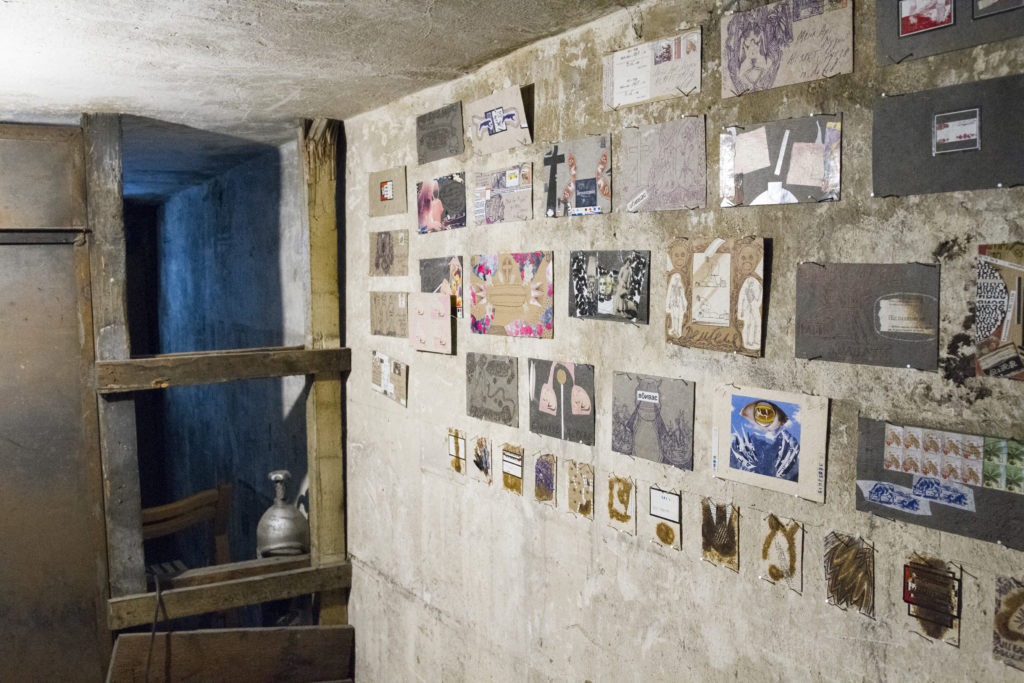 Lubomyr Tymkiv, Peace to the world [GA], drawings, collages, 2015, photo by Kacper Gorysz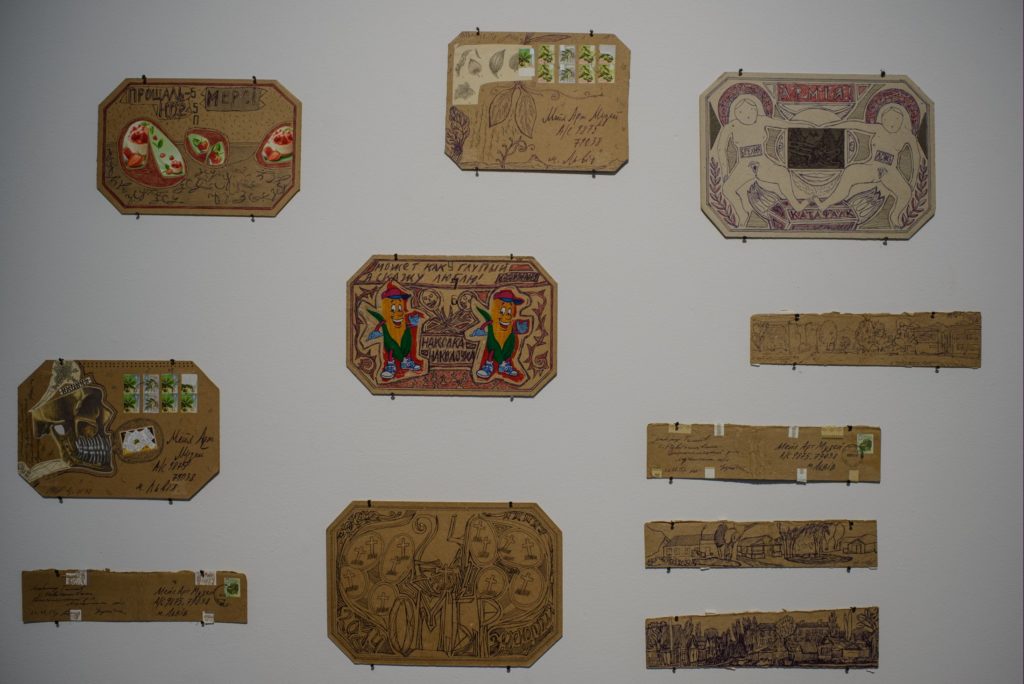 Lubomyr Tymkiv, Peace to the world [GL], Rysunki, kolaże, 2015, photo by Wojciech Pacewicz
Tymkiv is an artist and a soldier – he was conscripted to the Ukrainian army during the recent war in the Donbass area with pro-Russian separatists. During his service on the front, to cope with the realities of war he started making very beautiful and playful, considering virtual lack of materials, collages and sending them to his wife. Collages were made of what he could find – cardboard left after ammunition, labels of tin cans, fragments of found illustrations, letters and fragments cut out of newspapers and leaflets, and also his drawings. He sent them to the fictitious address of  Mail Art Museum. His collages remind us that art can be created out of anything and in every condition. We can find there surreal, raw beauty mixed with the images of war violence and cruelty, just as we can see similarities to Kurt Schwitters, Moscow Conceptualists and Constructivists. However, it is their personal character that seems to be the most poignant. Tymkiv's war commentary includes the analyses of power structure, but above all he is trying to bring back normal, human scale to the war madness.
Zapisz