Born in 1981 in Minsk, she lives and works in Berlin, Germany. Naprushkina studied at the National Glebov Arts Academy in Minsk, Fine Arts Academy in Karlsruhe and the Städelschule in Frankfurt am Main. She is an artist and activist whose work concentrates on power structures in nation-states, often making use of non-fiction materials such as propaganda issued by governmental institutions. The artist concentrates on projects that work outside the white cube and have a social and political impact. In 2007, Naprushkina founded the Office for Anti Propaganda, which started as an archive on political propaganda and developed into a political platform. The Office collaborates with activists and cultural makers in supporting political campaigns and social projects, as well as publishing underground newspapers. In 2013, she established the initiative Neue Nachbarschaft/Moabit which began as her individual project but grew into one of the largest initiatives in Berlin, gathering a large community of people with and without migrant and refugee background. Naprushkina is a lecturer at *foundationClass, Kunsthochschule Berlin-Weißensee in Berlin. In 2015, she was honoured with the Sussmann Artist Award and in 2017 with the ECF Princess Margriet Award for Culture. Her works have been featured in many exhibitions internationally in such venues as Brooklyn Museum, New York; Centro Cultural Sao Paulo; ЦЭХ, Minsk; gfk, Linz; Neuer Berliner Kunstverein (n.b.k.), HAU, Haus der Kulturen der Welt, Berlin; calvert22, London; SALT, Istanbul and other museums and cultural institutions. In Poland her work has been presented, among others, by the Museum of Modern Art, Zachęta National Gallery of Art, Centre for Contemporary Art Ujazdowski Castle, Warsaw; and MOCAK, Krakow.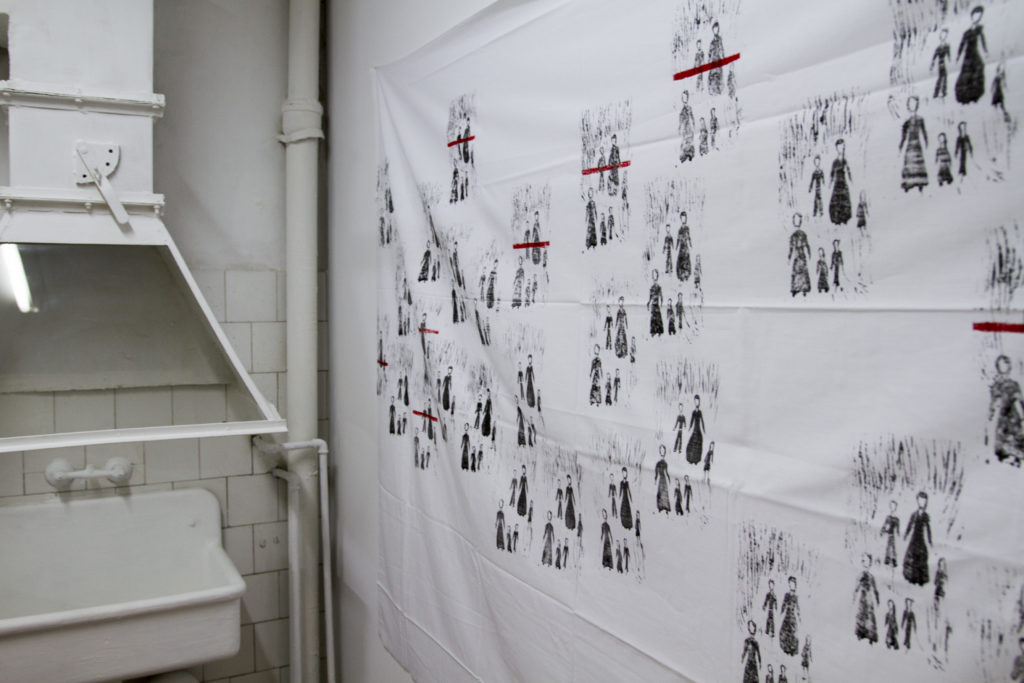 Marina Naprushkina, Brest/Terespol [GA], cooperation: Kheda Ilyasova and Marwa Almokbel, linolprint on bedsheet, 2017, photo by Kacper Gorysz
The border crossing in Brest/Terespol has been until recently "a window to the world", or at least, the EU, for Belarussians, who enjoyed a visa-free pedestrian movement there on the basis of so-called "small border movement". Belarussians living near the borders were doing shopping in the nearby EU countries, mostly Poland, but also Lithuania en masse, as industrial products, home equipment and food are much cheaper there than in their own country. Apparently the discount chain Ladybird was particularly popular among them. This didn't make the Belarussian authorities happy, and it's hard to blame them, as this seriously harms the national industrial production, which, unsold, fills up warehouses. The movement was suspended in October 2014 officially due to the lack of infrastructure. Naprushkina, Belarussian artist often using the form of light cartoon story, in a characteristic style shows groups of people trying to cross the border and failing or meeting a red frontier barrier. The cover sheet stresses the low budget and ordinariness of work, mirroring the everyday life of Belarussian society.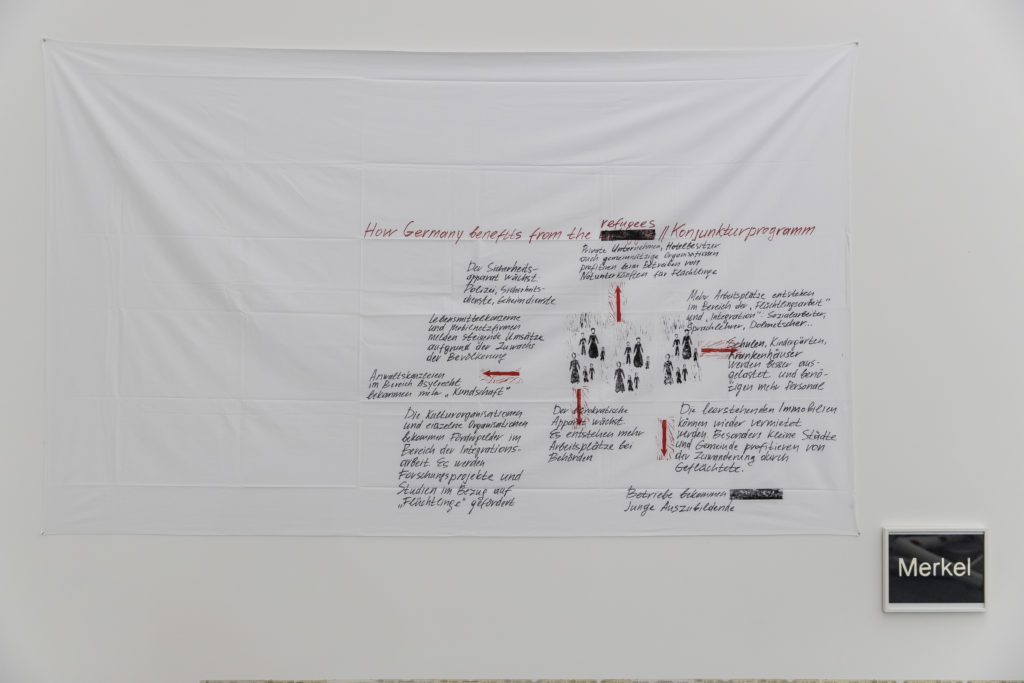 Marina Naprushkina, How Germany Benefits from the Refugees [GL], cooperation: Kheda Ilyasova, Marwa Almokbel, linolprint on bedsheet, 2017, 4.10.2015 [GL], linolprint on paper, 2017, photo by Wojciech Pacewicz