Born in 1978 in Serpukhov, Russia, she lives and works in Moscow. In 2003,Lomasko graduated from the Moscow State University of Printing Arts with a degree in graphic art and book design. She is now working as a graphic artist with a focus on graphic reportage. Drawing on Russian traditions of documentary graphic art, Lomasko explores contemporary Russian society, especially the inner workings of the country's diverse subcultures and informal groups, such as Russian Orthodox believers, LGBT activists, migrant workers, sex workers, and collective farm workers in the provinces. She has collaborated extensively with various non-profit human rights organisations on creating materials for publication and taught at workshops in places of incarceration. Co-curator of two long-term art and activism projects: Drawing the Court (with Zlata Ponirovska) and The Feminist Pencil (with Nadia Plungian). She is the author of a number of books, including Forbidden Art (in collaboration with Anton Nikolaev, 2011) and Other Russias (2017). Her work has appeared in mainstream print publications in Russia and abroad as well as in exhibitions. Her most recent solo shows have been organised at Ortega y Gasset Projects, New York and Ellis Gallery, School of Art, Pittsburgh, USA. In 2017, she has participated in group exhibitions at the Croatian Association of Visual Artists, Zagreb, and at the Triennial of Russian Contemporary Art, Garage, Moscow.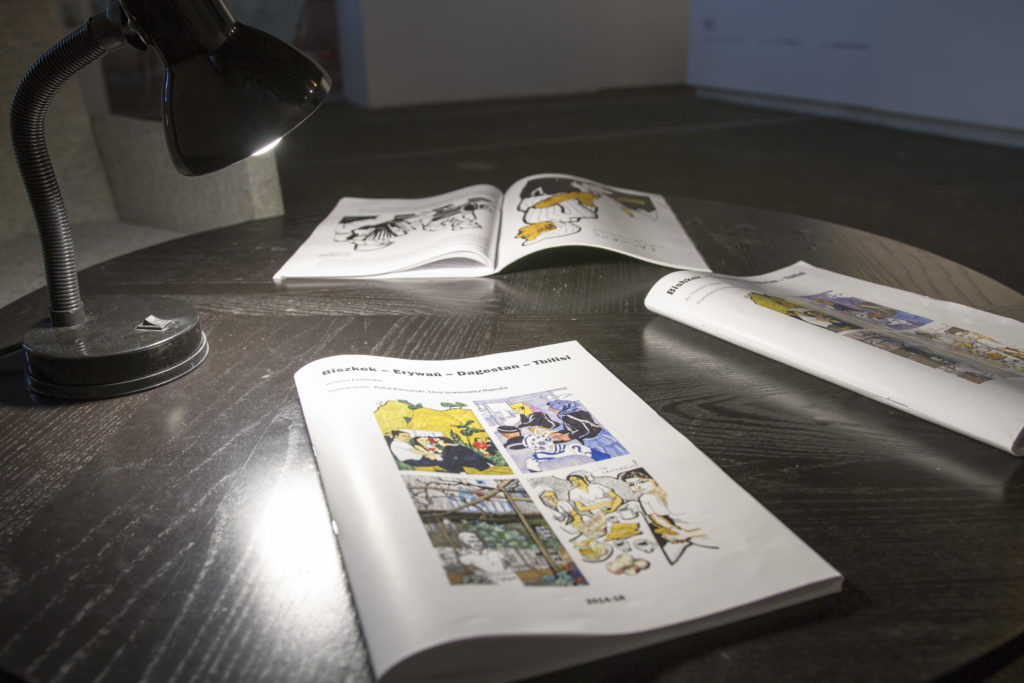 Victoria Lomasko, Bishkek, Yerevan, Dagestan, Tbilisi: Investigations With a Sketchbook [GL, GA], comic book, 2014-2016, photo by Kacper Gorysz
Russian cartoonist Victoria Lomasko is an engaged post-Soviet artist in the best sense of the word: her art is immersed in social and political reality of the former Soviet Union, and tells a story of the oppressed groups, it is boldly and shamelessly "journalistic" and can be viewed as a source of knowledge on those lands which are often obscured by popular headlines and mainstream media. Lomasko empathizes deeply with the subjects of – exactly, how to call them: Comic books? Stories? Reportages? Everything at once: graphically attractive form makes often drastic details of life in former republics on which her art concentrates, more accessible and bearable ones, as well as it enables documenting social resistance and protest. Her collected stories Other Russians have been recently published in English. In the brochure at our exhibition she retells her trips documenting the lives of the excluded in the Middle Asia former republics: feminist collectives, migrant workers, sex-workers. She shows the growth of chauvinistic nationalism and racism, particularly in Russian citizens against the Asians. It is a portrait of opposing political convictions and deep cultural divisions in the former USSR. Neither Russia's problems, nor its positive sides, she argues, result from a single political force.