Born in 1986 in Kyiv, he lives and works in Kyiv. Chichkan is an artist and activist. He is a painter and a graphic artist whose main technique is watercolour. An anarchist, a member of the Ukrainian anarchist organisation Autonomous Workers' Union between 2010 and 2016, and of the libertarian organisation Black Rainbow since 2014. Founder of the research initiative LCUD (Libertarian Club of Underground Dialectics) devoted to the explorations of the dimensions of right-wing ideology in Ukraine. His artistic career started in the early 2000s. He participated in the Kyiv Biennial 2015. His project During the War was presented in 2016 at the Artsvit gallery in Dnipro, Ukraine. In February 2017, the artist presented at the Visual Culture Research Centre in Kyiv his individual exhibition The Lost Opportunity, which reflected on the Maidan, the phenomena of decommunisation and the war in eastern Ukraine; the show was attacked and destroyed by neo-Nazis.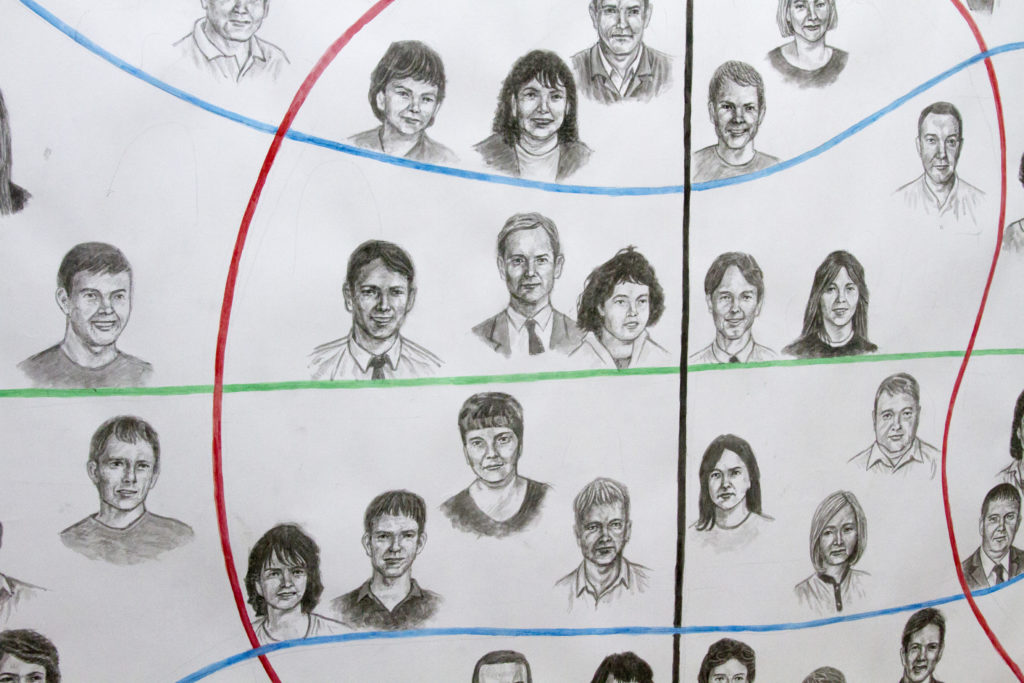 David Chichkan, Crossing Borders 2 (Ukraine – Poland) [GA], watercolor graphics, 2017, photo by Kacper Gorysz
Chichkan is a young, Ukrainian engaged artist and activist with a predilection for anarchism and laying bare the relations of power. The artist often uses the means of a cartoon or a mural, aesthetically referring to traditional Russian paintings, such as Orthodox icons or socialist realism. His recent works are often a commentary on the social and political aftermath of the Maidan Revolution. In his work Crossing Borders 2 (Ukraine – Poland) he uses a popular graph, recently circulating on the Internet, which measures the rightness or leftness of our political views, showing the portraits of anonymous Polish and Ukrainian people in it, so that almost everyone can identify themselves with someone in it. Where does the line between the right and the left, conservatism and progressivism go in contemporary Polish and Ukrainian societies? Today, in the times of post politics and constant social and ideological upheavals, everything gets mixed up, so putting up firm boundaries like that seems increasingly illusionary.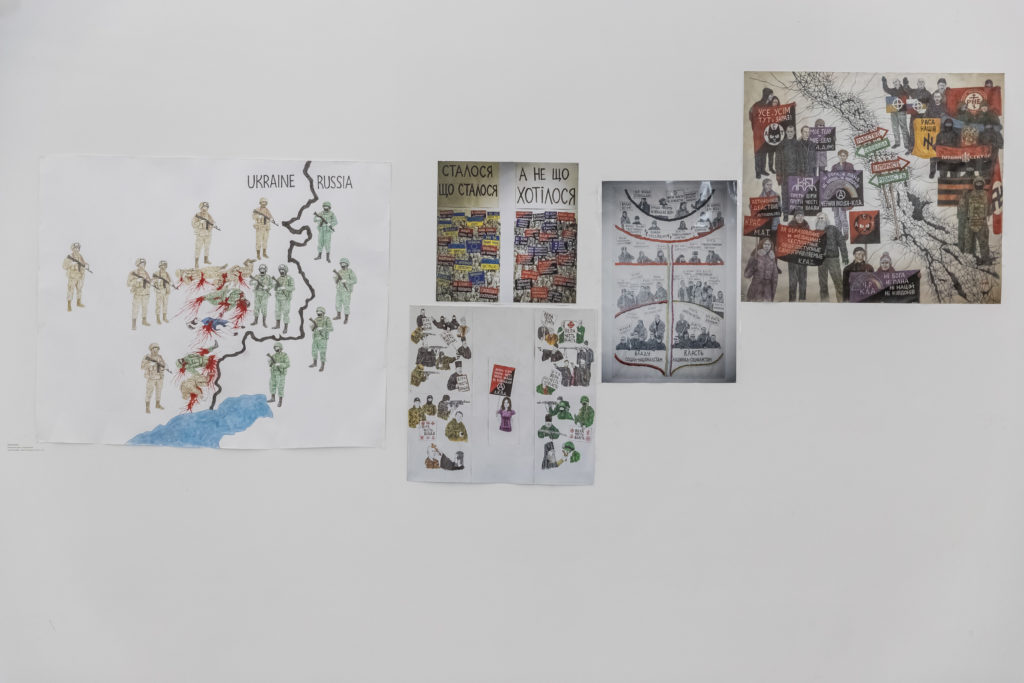 David Chichkan, Crossing Borders [GL], watercolor graphics, posters, 2017, photo by Wojciech Pacewicz